Wow, it's Friday, that was fast. Well, for me, my husband on the other hand who has been working 9 days straight hasn't quite been feeling that way. Good news for us all he gets Saturday off. That doesn't happen often enough.
But anyways, enough about that stuff. Time for the fitness stuff. We started out the week with some lousy weather. Well, cooler weather I should say. But we're ending on a warm note. I've taken a few walks with the kids this week which has been nice. It's good to have warmer weather. I still need to do more though.
I haven't stepped on the scale lately. I think I am staying around the same weight though. At least judging by how my clothes fit. I have still got to get a heart rate monitor so I can get working on the Lose 12 inches in 12 weeks. I know I need to make myself a priority, but there's always something for the kids I have a real hard time buying myself things. I'm going to do this though. I have been getting daily emails and they just sit in my inbox. I need to do something with them, I'm starting to feel guilty. Not because I'm not doing it for myself, but because I'm not following through on a promise.
So that's my week, I need a kick in the pants. How about you? Link up to tell me how your week of fitness has gone.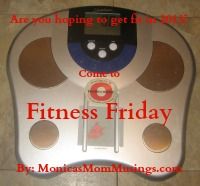 Check your BMI…
BMI Checker:

What fitness goals did you reach this week?