I am so happy it's Friday, well until I look at my calendar for next week because that means we're that much closer to a crazy week. But I finished off my week strong. Got in all 3 thirty minute workouts this week and I feel like I am beginning to see some results. Maybe not on the scale so much as in the way my clothes fit. These workouts really kick my butt, but at the same time they are in some instances getting a little easier to do. So I feel good.
I also discovered an app that my new phone had in it over the weekend which counts your steps and counts your calories. Truth be told I used it that one day and haven't really paid much attention to it since. I'm really going to have to start using that though because it will tell me just how many calories I'm eating a day and the step counter on it is really cool. I did reach my goal of 10,000 steps, but it meant I had to walk with the kids all over town. That included giving my 3 year old a piggy back ride up a very steep hill. I don't think it calculated that extra cardio workout I got from that feat. But it was very exciting to reach that goal and it's something I can get the kids involved in with me. This might be fun during the summer months.
How has your week been going? Have you been active? Eating the right things? Grab my button below and link up your own fitness post at the bottom of this post.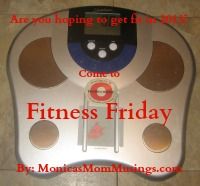 Check your BMI…
BMI Checker: