It's Sunday again. Time to start a new week. And that means time for a menu. Great way to plan for the week ahead. Last week we had to make a few minor adjustments to the menu so you might see some meals from last week on this weeks menu as well.
Now if you'd like to create your own menu and share it here you can. Just grab my button below and use the linky to link up at the bottom.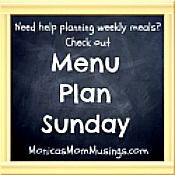 Monica's Menu For May 19 – May 25
Sunday: Steak with baked potatoes and mixed vegetables.
Monday: Orange glazed chicken with rice and broccoli.
Tuesday: Chicken tenders with french fries and carrots.
Wednesday: Tacos.
Thursday: Chicken piccata with egg noodles and carrots.
Friday: Ziti and meatballs.
Saturday: Breakfast for dinner.
Now it's your turn. What's cooking in your kitchen this week?