Hard to believe January is almost over. Someone here has a birthday coming up too. That will be in next weeks menu though. Time flies when you're having fun. And with all the fun we're having it is even more fun having this menu to keep us sane. So I hope you'll join me and link up your own weekly menu as well. Grab my button and link up at the bottom.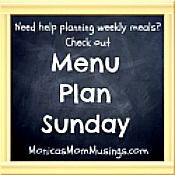 Monica's Menu Plan For January 26 – February 1, 2014
Sunday: Chicken sandwiches with garden salad.
Monday: Baked ziti.
Tuesday: Chili dogs with french fries and carrot sticks.
Wednesday: Breakfast for dinner.
Thursday: Chicken picatta with carrots and egg noodles.
Friday: Date night, kids will fend for themselves.
Saturday: Pasta and bacon.
Now it's your turn. What's cooking in your kitchen this week.