Remember I said I would have something new for you all this year?  A way to help me remain accountable in my eating healthier and at the same time helping you all maintain your goals.  Well, here it is.
Fitness Friday
Every Friday I invite you all to share your successes or even your failures for the week when it comes to maintaining a healthier lifestyle.  I invite you all to be honest with how you're doing.  I promise to always be completely honest with you about my progress in this journey as well.
Here's what I want to know:
What did you eat this week?  Were you good and ate healthy?  Did you stumble because of something happening in your life?
How active were you?  Did you get in 30 minutes of exercise 5 days the past week?  Did you manage to get in some moderate exercise in the form of housework?  Whatever it is, if you got up and were moving I want to hear about it and cheer you on.
What do you want to improve for the week ahead?  Have you made any fitness goals for yourself?
So since this is the first week that I'm introducing this I'm not going to expect a lot.  And honestly, even though I was planning this I didn't have a great week.  But I will share with you what it will look like weekly.
Monica's New Year, New Healthy
For the week of December 28, 2012 – January 3, 2013 I followed my menu plan pretty well for dinner.  However, my house is still filled with cookies and candy from Christmas so I have been partaking in those joys.  I hope to have those temptations out of the house very soon.
I was moderately active this week.  I didn't do a specific workout plan, but I did shovel snow Saturday and Sunday.  I spent the day Tuesday cleaning the house.  Since that included taking down the Christmas tree and carrying down the tree and ornaments to put in storage I would say it was a little more than just my normal cleaning.  For this week I hope to start adding a fitness routine to my schedule.
Finally my fitness goal is to get to a healthy BMI.  I am including a BMI calculator on here for you to check your BMI.  It's up to you if you share that with me or not.  I won't find out the results from the calculator so rest assured it will remain private if that's how you would like it to stay.  I will share with you my BMI though.  My BMI is 27.46 kg/m2 (Overweight) normal BMI range: 18.5 – 25 kg/m2.  Please feel free to check yours below.
For this week I am going to try to cut back on the sweets.  I hope I have a good report for you next week.
Your Turn
Okay now I want to hear from you.  I am making this a linky in case you want to take your blog readers on the journey, but I am also encouraging you to share your fitness goals, accountability, and activity level here in comments if you'd like.
Please grab my button below and add it to your blog.  The more people we have cheering us on the better.  Please check the other blogs in the linky or respond to the commenters here with supportive encouraging comments only.  This is very very important!  I am telling you right here and now, while I normally will not delete comments from my blog if I deem any comments on this post to be rude and unsupportive I will not hesitate to delete the comment.  We all need encouragement in this area to be healthy, not brow beating and insults.  So in this particular instance if you can't think of anything nice to say, then please just don't say anything at all.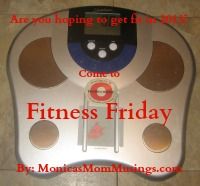 BMI Checker:
Link up below.
Related posts: