A month into this new more fit you. So how is everyone doing? Eating healthier? Have you found an exercise program that you like? Seeing any results?
I have continued to avoid my eating downfalls this week. Sticking to my menu pretty well and avoiding the sweets in the house.
My exercising is not going as well as I would like. I used to be a huge Denise Austin fan, but all of my workout videos were on VHS and we no longer have a VCR. I thought it used to be on TV super early in the morning, but it's not anymore. So I haven't had much luck finding an actual workout program that I can stick with. Still doing the Wii dance games, but I feel like I need more than that.
I am seeing an improvement in my BMI though. So that's a good thing. Especially considering it's my time of the month. I was almost afraid to get on the scale, but the numbers are still going down in spite of the wonderful water weight I am currently carrying. My BMI is now 26.93 kg/m2. I'm still in the overweight category, but inching ever so close to being in the normal range. Only 10 pounds to lose to no longer be in the overweight range. That seems very doable. So I'm definitely happy about this. My healthier eating is having an impact.
There is definitely more that needs to be done though. I feel like I'm sounding like a broken record, but I am going to work on finding the right workout program this week. I guess we can see this is my area of difficulty.
So now it's your turn. Grab the button, check your BMI, and link up at the bottom to tell me how you are doing to become more fit this year. Or leave your progress in comments. Remembering my strict policy on this thread of only supportive comments. So what do you want to get a pat on the back for or a swift kick in the butt to do?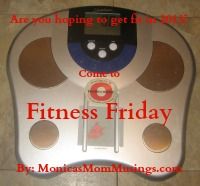 Check your BMI…
BMI Checker:

Related posts: