Thank God it's Friday. What a week it has been. I can't say it has been super successful in the getting fit area. Well, that's not true, I worked out Monday, Tuesday, and Wednesday and then my kids had no school Thursday and Friday because of a snow storm so I slept instead. However, I did spend 2 1/2 hours shoveling today and if that's not a workout, then I don't know what is. Not to mention that as soon as I walked in the door from shoveling I had to clean up throw up. So yeah I would say I did more than my fair share of working out today.
Alas I have been getting extremely discouraged. I went to buy myself a few personal items this week and had no luck. Of course the problem is when you are living with a full figure these things rarely fit right anyways. It just gets really depressing though that clothing companies don't all take into consideration that full figured gals might like to have something that makes them feel pretty and not frumpy. I left the store empty handed.
So how are you doing getting fit? Do you see your hard work paying off? Grab my button below and link up at the bottom with your own fitness update.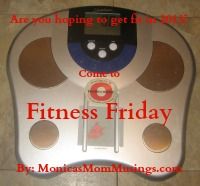 Check your BMI…
BMI Checker:

Related posts: