It's Friday and time to check in with how you're doing in your fitness goals. First I want to apologize for the tardiness of this being posted. I normally work on it Thursday night, but I got wrapped up in a Facebook debate. I will share with you all what happened there soon. For now lets see how we're doing in achieving a new fit you.
As I sit here watching the snow fall (we're expecting 2 feet of snow today) I can't help but think I can't wait for spring and warm weather. Because then I could be outside taking walks with the family around the neighborhood. Of course, I will be getting one heck of a workout later when I go out to shovel this mess. Which will be a few times today in an attempt to keep ahead of the snow. So I think I'll skip dancing.
So here's how I've been doing. Still sticking to the smarter eating choices. Trying to enjoy treats in moderation. I am noticing a difference. My pants are definitely fitting a little better.
I still haven't found a good aerobics program. I guess I'm going to have to purchase a video? Any recommendations for a good aerobics video? I'll probably stick with Denise Austin, I've always loved her workouts.
Now it's your turn. How have you been doing achieving your fitness goals? Anything we can celebrate with you? Any problems you're having staying focused? Do you need a swift kick in the butt?
Grab my button below and check your BMI if you're so inclined. I will not know what it is, only share it if you want to. Then link up at the bottom or leave a comment with your progress if you'd prefer. I hope we're still working towards a new fitter you.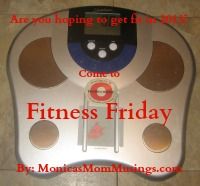 Check your BMI…
BMI Checker:

Related posts: