I'm just gonna say it, my new workout videos are tough! I did my 3 workouts this week. I was on a Monday, Wednesday, Friday schedule, but my husband let me sleep in on Wednesday so I did my workouts back to back yesterday and today. And I'm paying for it big time already. Of course it didn't help that yesterdays workout was a boot camp and todays was a kick boxing one. Both of them worked my legs really hard. It's good that I'm feeling it though. At least I hope. I'm not seeing any difference just yet in how my clothes fit, but this has to be working. I'm relieved I have two days off though.
It's no lie that the older you get the harder it is to get weight off though. The pounds really just melted off after my two oldest were born, but now it sure is discouraging working out so hard and not seeing instant results. It took me a decade to put this weight on I guess so lets hope it doesn't take a decade to take it off.
How was your week in fitness this week? Grab my button and link up your fitness post below.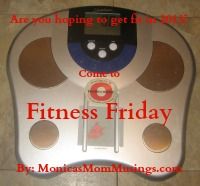 Check your BMI…
BMI Checker:

Related posts: