We are solidly into April and I am already feeling my typical April pressure with two of my kids birthdays, Easter, and just everything else that happens. So not having to do the what's for dinner dance every night will be nice.
Won't you join me? Grab my button, write up your own menu and link it up below. I don't think you'll regret doing this.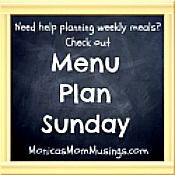 Monica's Menu For April 6 – April 12
Sunday: Chicken cutlets, mashed potatoes, and broccoli and cauliflower.
Monday: Homemade macaroni and cheese with ham.
Tuesday: Another school fundraiser, eating out to support the school.
Wednesday: Ranch chicken with broccoli and egg noodles.
Thursday: Quesadillas with carrot sticks.
Friday: Lasagna for the birthday girl.
Saturday: Fend for yourself.
Now it's your turn, what's cooking in your kitchen?
Related posts: