Time is flying by. It's February and today my baby girl turns 3. Silly girl keeps telling everyone she's 6 today though. But anyways I can't believe we're already in February. The week ahead is going to be a busy one. Hey, aren't they all? That's why I'm relieved to have a weekly menu to keep me on track and help me save money as well.
Won't you join me in Menu Plan Sunday? Just grab my button below and link up at the bottom.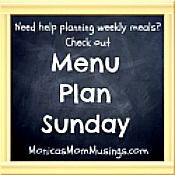 Monica's Menu Plan For February 2 – February 8, 2014
Sunday: Birthday girl's pick. Homemade macaroni and cheese with ham and chocolate cake.
Monday: Fried chicken with mashed potatoes and mixed vegetables.
Tuesday: Chicken picatta with egg noodles and carrots.
Wednesday: Tacos.
Thursday: Ranch chicken with egg noodles and broccoli.
Friday: Spaghetti and meatballs.
Saturday: Paninis with carrot sticks and french fries.
Now it's your turn. What's cooking in your kitchen?
Related posts: