It's the last week of February. Be sure to check back on my blog tomorrow for one of the recipes I'm making today. If you like sour cream and potatoes, then you'll definitely want to check out what I've got cooking.
Things will hopefully be getting back to normal around here with the kids all at school and my husband back to work. My menu last week flew right out the window. So hopefully we'll be on track this week.
Join me and share your own menu. Grab my button and link up at the bottom of this post.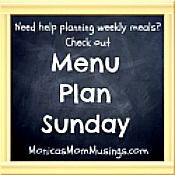 Monica's Menu Plan For February 23 – March 1, 2014
Sunday: Roast chicken, mashed potatoes, and broccoli.
Monday: Chicken parmigiana with spaghetti.
Tuesday: Pork chops with alfredo noodles and green beans.
Wednesday: Baked ziti.
Thursday: Meatloaf with perogies and green beans.
Friday: Chicken picatta with egg noodles and carrots.
Saturday: Chicken and rice casserole.
Now it's your turn. What's cooking in your kitchen this week?
Related posts: