I completely skipped my menu last week and it totally threw me for a loop. It was a difficult week to begin with so it did not help at all that we had to add the What's for dinner dance to the mix every night. So I want to prevent that from happening again. I don't have too crazy of a week this week though. But none the less this will still be one less thing to worry about. I hope you'll join me and grab my button below and link up your own menu for the week at the bottom of this post.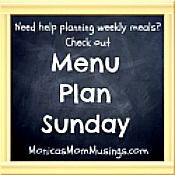 Monica's Menu Plan For March 16 – March 22, 2014
Sunday: Eating out.
Monday: Happy St. Patrick's Day! I'm Irish, but we don't do Corned Beef and Cabbage. Perhaps because it's not the traditional Irish meal anyways. So we'll go with a hearty Chicken Stew.
Tuesday: Ziti and meatballs.
Wednesday: Tacos.
Thursday: Chicken picatta with carrots and egg noodles.
Friday: Homemade pizza.
Saturday: Paninis with carrots.
That's what's cooking in my kitchen this week, now what's cooking in your kitchen?
Related posts: