It's March! Things are shaping up to be busy this month. So having a menu should be helpful. I hope you'll join me and grab my button and link up your own menu at the bottom of this post.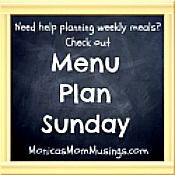 Monica's Menu Plan For March 2 – March 8, 2014
Sunday: Chicken tenders with perogies and salad.
Monday: Chicken and rice casserole.
Tuesday: Mine and hubby's anniversary so we're going out. Kids will have macaroni and cheese.
Wednesday: Ziti and meatballs.
Thursday: Oven fried chicken with rice pilaff and corn.
Friday: Homemade pizza.
Saturday: Leftovers.
Now it's your turn. What's cooking in your kitchen this week?
Related posts: