Time to start our week out right. It's a busy one ahead for me so I'm relieved to have a menu get me through this week. Have you tried menu planning yet? If not now's a good time. Solve that what's for dinner problem by planning out your menu in advance for the week. Grab my button and link up at the bottom of this post with your own menu.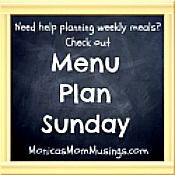 Monica's Menu Plan For March 23 – March 29, 2014
Sunday: Sandwiches with salad
Monday: Chicken picatta with carrots and egg noodles.
Tuesday: Homemade pizza.
Wednesday: Leftovers/Fend for yourself.
Thursday: Homemade macaroni and cheese.
Friday: Breakfast for dinner.
Saturday: Chicken and rice casserole.
Now it's your turn. What's cooking in your kitchen this week?
Related posts: