I am having such a hard time doing some basic things lately. I make my menu, but it seems crazy life things are getting in the way of fulfilling it. I need to get better at this. I need to get the family more involved in actually helping me make the menu. I think that's part of the problem is I have been deciding a lot of this on my own and then no one wants what I said we were going to have. That and I'm exhausted lately with all of the running around so cooking never appeals to me. This has to change. This might be a good week to change that because I already have a few I'm not cooking nights because of plans this week.
You can join in too and make your own menu. Just link it up on the bottom. Maybe we can get some ideas from each others menus. So grab my button and link up your menu below.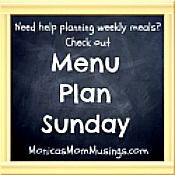 Monica's Menu Plan For March 30 – April 5, 2014
Sunday: Tacos.
Monday: School fundraiser, eating out to help the school.
Tuesday: Sausage and Meatballs with ziti.
Wednesday: Oven fried chicken with rice pilaff and corn.
Thursday: Homemade pizza.
Friday: Baseball stadium hot dogs.
Saturday: Chicken and rice casserole.
Now it's your turn. What's cooking in your kitchen this week?
Related posts: