Last week was a rough week for my menu. It was also one of those weeks I was glad I had a menu. While things had to get moved around, like pork roast couldn't be made on Sunday because pumpkin picking went later than anticipated, I still was able to stick to the plan of what we were going to have for the most part. Just swapped things around a little. And the one day we opted to not have anything from the menu (because I didn't want my sick son to miss out on it) we were able to resort to leftovers for dinner for the rest of us.
So has planning your menu been helping you to at least have what you need in the house to make things happen even if you aren't sticking to it to the letter? I sure hope so. Please grab my button and link up your menu at the bottom of this post.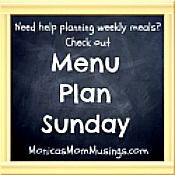 Monica's Menu For October 21 – October 27
Sunday: Baked Ravioli (this was supposed to be Saturday's dinner, but with a sick little boy we're trying this again. I think he's on the mend and maybe a few plain raviolis will be okay for his tummy).
Monday: Chicken Piccata with egg noodles and carrots.
Tuesday: Oven Fried chicken with rice pilaff and corn.
Wednesday: London Broil with mashed potatoes and broccoli.
Thursday: Chicken Pattys with french fries and carrot sticks.
Friday: Breakfast for dinner. Not only is hubby working late, but I've got lots of last minute birthday party stuff to take care of. I need an easy night.
Saturday: Fend for yourself. It's party day! My son's 5th birthday party. While it's a mid-afternoon party I know no one is going to be super hungry after snacking on party food all afternoon. There may or may not be cake for dinner that night, shhh it doesn't happen often.
This is going to be a crazy busy week with conferences, book fair volunteering, party planning, and a birthday party. So it's more important than ever that I have this menu to keep me on track for the week. Come join me and share your menu for this week.
Related posts: