I'm not too sure how much menu planning I should do for this week as we might be without power for most of it. Luckily when the power goes out we can still have a hot meal, but it tends to be hard to make it in the dark. Plus it has to be done on the stove top. So it limits our ability to cook. We will make the best of things though. I don't know what the deal is with the mega storms this particular week of the year all of a sudden. My husband is on vacation, we are very busy with birthdays and Halloween. I am just hoping we still have Halloween this year. Well, and of course that everyone is safe.
But here is my attempt at a menu for this week, we'll see how it all pans out in the end. Grab my button and link up your menus at the bottom. And whatever suggestions you have for cooking in the dark leave me a comment.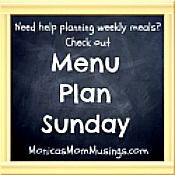 Monica's Menu For October 28, 2012 – November 3, 2012
Sunday: London broil with mashed potatoes and broccoli.
Monday: Supposed to have dinner at my daughter's school if there is school.
Tuesday: TBD
Wednesday: TBD
Thursday: Homemade Macaroni and Cheese with ham (son's chosen birthday dinner).
Friday: Date night for my birthday, going out to dinner with hubby.
Saturday: Panninis with carrots.
I really have no idea what to do for midweek this week. I'm at a loss because of this storm. So please help me out with some suggestions of easy to cook stove top dishes that I can throw together with little light.
Related posts: