Another week another menu. Grab the button below and link up your menu at the bottom.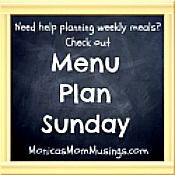 Monica's Menu For October 7 – October 13
Sunday: Meatballs with gnocchi and garlic bread.
Monday: Chicken and rice casserole (skipped it last week).
Tuesday: Quesadillas with baby carrots.
Wednesday: Chicken Alfredo.
Thursday: Oven fried chicken with rice pilaff and corn.
Friday: Breakfast for dinner.
Saturday: Sandwiches.
Related posts: