One of those weekends where life got in the way. We were partying all weekend long, well at least my kids were. With several friends birthday parties and a close family friend's party. So when it came time to make my menu for Sunday it just completely slipped my mind. Must have been because I wasn't doing the cooking. So Menu Plan Sunday this week is pushed back to Monday, for this week only though.
As always link up your menu below and be sure to grab my button for this.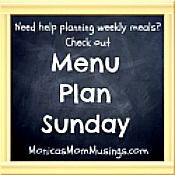 Without further ado…
Monica's Menu Plan For September 30 – October 6
Sunday: We had a real Italian feast to celebrate a good friend's birthday. Food all day long. I'm still full.
Monday: Chicken tenders, french fries, and broccoli
Tuesday: Homemade Macaroni and Cheese.
Wednesday: Tacos.
Thursday: Chicken and rice casserole.
Friday: Pork Chops, rice pilaff, green beans, and applesauce.
Saturday: Chicken Picatta with egg noodles, and baby carrots.
What is cooking in your kitchen this week?
Related posts: