Another week another menu. Won't you join me? Help save yourself time, money, and aggravation by knowing what you're going to have in advance. Create your menu for the week and avoid the 5 p.m. "What's for dinner?" question. It's easy. Grab my button, create your menu, and link up at the bottom of this post.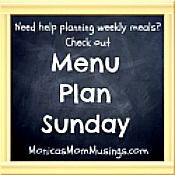 Monica's Menu Plan For February 9 – February 15, 2014
Sunday: Chicken sandwiches with french fries and salad.
Monday: Homemade pizza.
Tuesday: Shake n bake pork chops with green beans, egg noodles, and applesauce.
Wednesday: Chicken alfredo.
Thursday: Oven fried chicken with corn and rice pilaff.
Friday: Chicken stew.
Saturday: Panninis with carrot sticks.
Now it's your turn. What's cooking in your kitchen this week.
Related posts: